Finding a good Reverse Osmosis system with strong water filtration features and at a good price is a hectic task to start with. Even if you find the one, you will still be concerned about its accuracy and precision in water filtration. Well, the Waterdrop G3 P800 Reverse Osmosis System (WD-G3P800-W) is here to solve all your concerns regarding a good reverse osmosis water filtration system.
In this Waterdrop G3P800 Reverse Osmosis System review, I will help you better understand why this highly demanded RO filter is a perfect fit for your home.
Features of Waterdrop G3P800 Under Sink Reverse Osmosis System
Aside from a high-performance Reverse Osmosis membrane and multiple effective water filtration layers to get rid of a wide range of contaminants, the Waterdrop G3P800 Reverse Osmosis System is also packed with many useful features:
A fast water flow rate of 800 GPD with a 3:1 filtered water to wastewater ratio
LED UV sterilizer stage
Smart features including an integrated TDS meter
Tankless RO System
A sediment pre-filter, a carbon post-filter, and a 0.0001-micron RO membrane are among the seven steps of filtering through three distinct filters that efficiently remove 99 percent of all dangerous compounds.
Have a look at the detailed features of the Waterdrop G3P800 RO System below:
1. Filter Life Tracker
One of the useful features of this best high-flow RO system is its built-in filter life tracker, which immediately tells the users whenever the filter needs replacement.
2. Ultra-Slim Filter Design  
Unlike most of the Reverse Osmosis water filters in the market, the Waterdrop G3P800 is tankless, making it easily accommodate under your sink without taking up lots of space. Also, the sleek exterior of the filter makes it look great to place in your kitchen.
3. TDS Monitor
The built-in TDS monitor lets the owners check the performance and efficiency of the RO system easily.
4. High-Efficiency
This water filter is proven to produce up to 800 gallons of purified water each day (GPD), which is more than enough for a large family or even a small business that needs a lot of RO filtered water.
It also does it with a remarkable 3:1 waste water ratio, which means it produces only 1 gallon of wastewater for every 3 gallons of filtered water.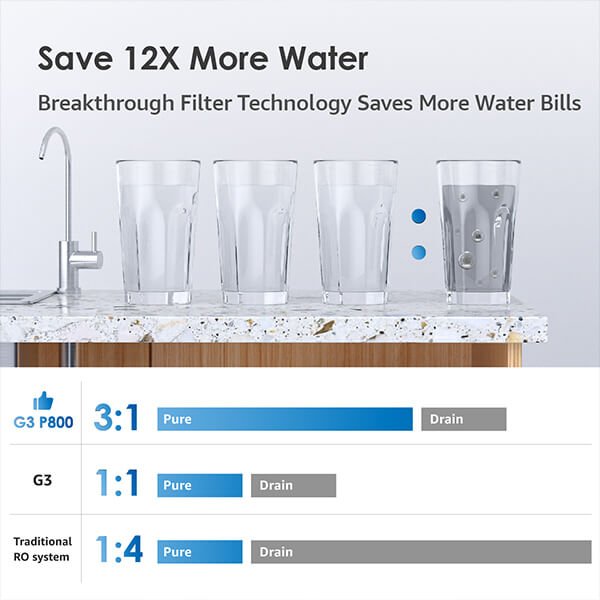 Because RO systems employ pre-filtered water to clear the filter membranes of accumulated contaminants, wastewater is an unavoidable byproduct. Older RO systems can only generate 1 gallon for every 3 gallons wasted, while most efficient RO systems have a 1:1 or 2:1 ratio.
5. Multiple Filter Membrane System
The Waterdrop G3P800 RO system has a multi-stage water filtration system with each filter is separated by a carbon block, which allows high efficiency in purifying the water. The carbon block removes any solid dirt particles at each stage of filtration.
The seven layers of RO membrane filter out every harmful chemical and microorganism from the water, leaving you with a fresh and clean glass of water. An additional CF Filter, Re-mineralization filter, and CB filter are also present to ensure no drop of water goes unchecked out of this best high-flow RO system.
6. Advanced UV Light
The UV light is incorporated in the build of this Waterdrop G3P800 Reverse Osmosis System to check for all the viruses, bacteria, and microorganisms present in the water.
With the addition of a LED UV sterilizer, now it can better handle contaminated water with potential microorganisms like bacteria and viruses.
7. Brushed Nickel Faucet
Another great thing we would like to mention in this Water drop G3P800 Reverse Osmosis system review is that it comes with its own faucet, which makes sure your filtered water does not become contaminated after the treatment.
8. Easy Installation
Anyone with even modest DIY skills may install the Waterdrop G3 P800 under-sink filter system, no plumber is required for the installation.
When assembling the filtered water faucet, the only potential stumbling block is to punch a hole in the sink or surface.
Pros and Cons of Waterdrop G3P800 RO System
Here are the reasons why and why not we like this Waterdrop G3 P800 RO System:
Pros:
Strong water filtration performance.
The purified water output is extremely high at 800 gallons per day, which takes only 6 seconds to fill up a cup.
It's easier to set up and maintain a tankless system.
Filter setup is simple – you can't go wrong with the filter installation.
Integrated feedback mechanisms keep you informed about the status of your filters and the quality of your water.
The use of an integrated pump improves efficiency, reduces wastewater, and saves a lot of money on water usage.
Sleek design.
Cons:
The faucet installment and filter replacement are both downsides of this system. While Waterdrop makes installation as simple as possible, it still takes about ten to fifteen minutes to have the filter set up and ready to use.
The G3P800 is compact and small enough to fit under the sink, but you'll need some tools to connect water mains and install the additional faucet next to your washbasin.
Waterdrop G3P800 discount code: Apply the code "BFGP" on the official Waterdrop store to enjoy an exclusive $199 OFF (that's about 20%)!
Installation & Maintenance of Waterdrop Reverse Osmosis System G3P800
Unlike traditional filter systems and even many other smart RO filter systems, installing this best high-flow RO system is quite easy. Also, it is easy to maintain with no regular maintenance needed.  
Everything you'll need to set up and install the system will be included in the package. PE pipes, a T-fitting, a drain saddle, lock clips, a connection wire, and a power cord are included in your box.
The system's installation is covered in the owner's manual, and you can also watch the installation video from Waterdrop on Youtube.
Changing the system's filters regularly is important to maintain the filtration performance of the Waterdrop G3 P800.
The CF filter must be replaced every 6 months, whereas the CB filter can last eight to twelve months. The RO membrane can last up to two years. The UV light doesn't need to be changed as it can last up to 50 years with very little maintenance.
You won't have to worry about when to change the filters. The large faucet screen of the Waterdrop G3 P800 displays the filter life and water quality at a clear glance, so you know when it's time to replace the filter.
Waterdrop G3P800 Replacement Filters
Waterdrop CB Filter (WD-G3-N1CF): Pre-sediment and carbon block. Superior 3-in-1 composite filter. Replace every 6 months. [Click here to buy]
Waterdrop RO Filter (WD-G3P800-N2RO): 0.0001-micron highly accurate RO filtration. [Click here to buy]
Waterdrop CB Filter (WD-G3-N3CB): Premium coconut shell activated carbon block with small pore size. Replace every 8 to 12 months. [Click here to buy]
(Optional) Waterdrop Remineralization Filter (WD-MNR35): Advanced PCC remineralization technology to add natural minerals like calcium, magnesium, sodium, potassium, etc. into filtered water to improve taste and health. Replace every 12 months. [Click here to buy]
Waterdrop G3P600 vs G3P800: Comparison
Below are the main differences between Waterdrop G3P600 RO and Waterdrop G3P800 RO Systems
| | | |
| --- | --- | --- |
| Model | G3P600 | G3P800 |
| Flow Rate | 600 GPD | 800 GPD |
| Drain Ratio | 2:1 | 3:1 |
| UV Sterilizer | No | Yes |
Waterdrop G3P800 Reverse Osmosis System Reviews by Real Customers
Very nice unit, so far so good. I thought it was only water, how much better tasting can it be, and it did surprise me, way better tasting than a Brita pitcher. Had a professional plumber install as I needed other work done as well. The plumber was impressed with this tankless unit and took pics as he will be recommending it to other customers as well.

– Verified buyer
Amazing. Not too difficult to install. Had to get a pillow for the knees/back under the sink. But man, this thing works like a champ. Always clean tasting with TDS consistently around 5 ppm. Very impressed. The flow rate is outstanding! Faster than my refrigerator filter. I don't think I'll be able to convince my family to not have an instant RO. The noise is noticeable but not terrible.

– Verified buyer
FAQ for Waterdrop G3P800 RO System
1. How does a Waterdrop G3 P800 Reverse Osmosis system with three stages work?
The Reverse Osmosis membrane removes organic and inorganic chemicals such as fluoride from water. It reduces contaminants and Total Dissolved Solids (TDS) down to 0.0001-micron, eliminating arsenic, lead, parasite cysts, copper, and other contaminants.
2. Do I need to change the LED UV lamp?
No. The LED UV lamp can last more than 50 years.
3. Can I use my own water faucet with the Waterdrop G3 P800 RO System?
No. The existing water faucet may be incompatible with the system, so it's best to use the dedicated faucet that comes with the RO system.
4. What are the drawbacks of Reverse Osmosis technology?
Drawbacks of RO systems are that they remove most minerals from the water, resulting in a slightly acidic ph. If that's your concern, you may add a remineralization filter after the RO system for alkaline water.
Conclusion: Why Choose Waterdrop G3P800 Tankless RO System?
While the pricing is a little expensive, it includes some amazing cutting-edge technologies and produces one of the purest waters you can get at a high flow rate of 800 GPD.
It also saves space underneath the sink and is simple to install and maintain.
The reasons why I recommend the Waterdrop G3P800 RO system are:
Has extremely high filtration performance
Superior water efficiency with 3:1 filtered water to wastewater ratio.
A UV filter, an accurate TDS meter, and leak detection are all included.
The condition of filters is always displayed on the smart faucet.
Filters are long-lasting and cost-effective.
This is a little system that is simple to set up and manage.
Waterdrop G3P800 discount code: Apply the code "BFGP" on the official Waterdrop store to enjoy an exclusive $199 OFF (that's about 20%)!
Also Read: