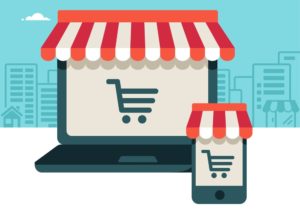 With the growing e-commerce trends, we are curious about the current state of the retail world and how they affect the consumers shopping and spending behaviors.
We wanted to know more about the effects of the online shopping trend, internet, and technologies towards the retail world, such as consumers preferences on retail shopping, what are their opinions on the shopping experience, and the future trends in consumers spending.
Not only us, we believed many of the online retailers, owners of brick-and-mortar shop, and omnichannel retailers would like to know about the latest e-commerce statistics as well.
So, we've surveyed over 30,000 consumers worldwide from aged 18 to 65.
Here's what we found in the consumers expenditure survey.
Consumers Shopping Preferences
1. 57% of consumers prefer to shop online, 31% of consumers prefer visiting the physical shop, while 12% of consumers said both ways are the same for them.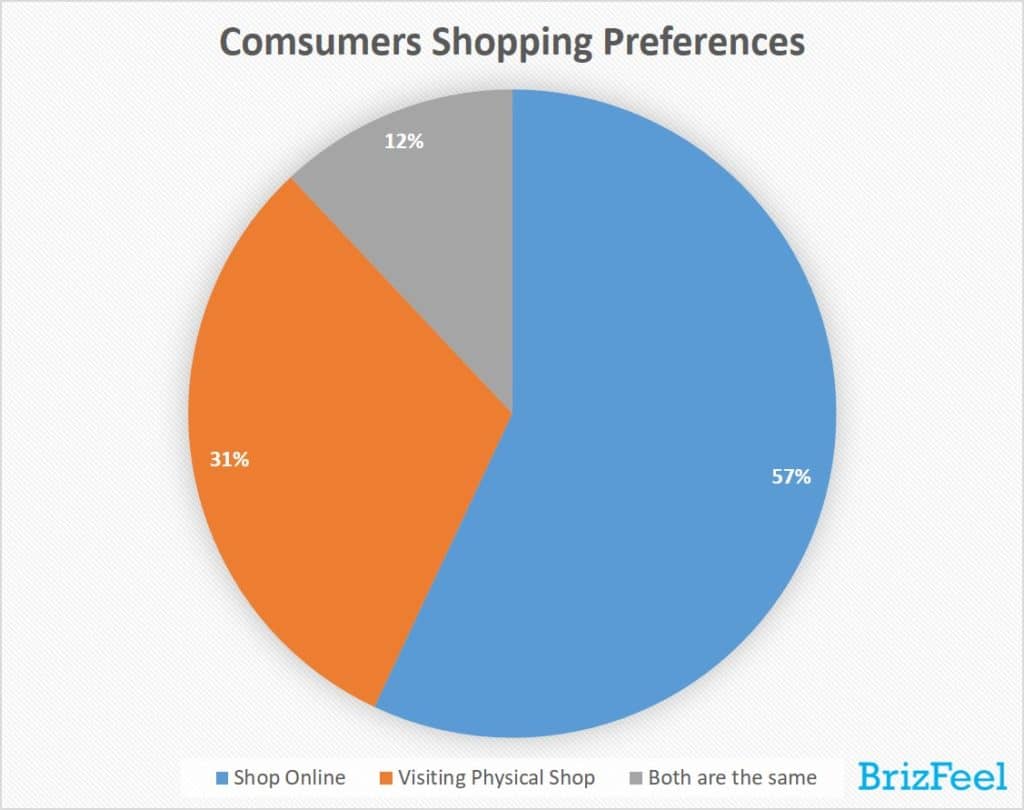 2. 78% of consumers are likely to shop on large online retailers, compared to 52% on marketplaces, and 43% on smaller web-stores.
3. About one-third of consumers said the top reason to shop online is the ability to shop 24/7 (32%), followed by lower price (29%), convenient (22%), and save time (17%).
4. 45% of consumers said they to shop prefer e-commerce websites with more testimonials.
5. Over half of the consumers said the biggest drawback of online shopping is not able to touch, feel, and try a product (51%), followed by lack of physical shopping experience (24%), possibility of damage for fragile item (11%), lack of interactivity (5%), scam & fraud issue (5%), and delay in delivery (4%).
Consumers Shopping Behavior
6. Consumers spend an average of 5 hours a week shopping online.
7. 92% of consumers said they shop online at least once a year, 67% of consumers shop online at least once every month, 25% of consumers said they shop online at least once a week, and 4% of them said they shop online daily.
8. Mobile phone is the top platform used for online shopping at 49%, followed by pc at 43%, and tablet at 8%.
Insights: The use of smartphones for routine shopping has risen gradually over the past few years and overtake personal computers as the top platform choice for online shopping.
9. 62% of consumers will read the shipping & return policy before making a purchase.
10. 39% of consumers will look for recommendations from friends and family before purchase.
11. 27% of consumers said they used their smartphone to make monthly purchases, while 24% of consumers used their pc for monthly purchases.
12. Only 22% of consumers are likely to share a product or service on their social networks after purchased.
13. 54% of online consumers will perform a product search on search engine first, while the other 46% choose to go directly to the website they want.
14. 71% of consumers have redeemed a mobile offer and only 8% of consumers have redeemed a print offer.
15. 27% of consumers have posted a review or feedback online.
16. 52% of consumers willing to share data in exchange for benefits such as reward, quicker service, and personalized offer.
17. 51% of female consumers said that they will search for discount coupon codes for online purchases compared to 27% of male consumers.
18. 38% of consumers said they followed a company brand on social media.
19. 46% of consumers said they find their inspiration for purchase using social media, followed by 41% using e-commerce platforms, 27% using blogs, 26% using individual retail websites, 19% using deals & coupons websites, 15% using comparison websites, 11% using newsletter email from brands, 9% using online communities & forum, and 6% using digital magazines.
Insights: Consumers are still relying on the crowd's opinions in deciding what to buy.
Over the past decade, social media has changed the way consumers think and act.
For example, if a consumer is going to buy an RO water filter system, he may ask for an opinion on social media to make a decision.
Based on our survey, other users' opinions posted on social networks have a stronger influence on consumers' purchase decisions than retailers' brands, promotions, and sales pitches.
We believed that consumers treat user-generated contents on social networks as authentic and genuine opinions.
With that being said, retailers shall pay attention to social media as part of their marketing efforts in order to catch up the shopping trends.
20. Retail websites are the most common sources of initial product awareness at 23%, followed by physical shops at 19%, online advertisements at 16%, offline advertisements at 15%, social media at 11%, online reviews at 8%, and communication with friends at 8%.
Consumers Spending Behaviors
21. 87% of consumers have made an online purchase.
22. 68% of consumers are more likely to make a purchase if they can watch a video explaining the product or service beforehand.
23. 94% of consumers will not buy from an online store with the majority of bad reviews, 27% of consumers said they will be affected by a minority of bad reviews, and 35% of consumers will not buy from an online store with no reviews at all.
Insights: Reviews are important for an online store, even a minority of bad reviews is still better than no review.
24. The top factors in making a purchase from which website is price (89%), followed by brand (57%), delivery method and return policy (49%), shop reviews (47%), refund policy (44%), business aged (11%), and others (3%).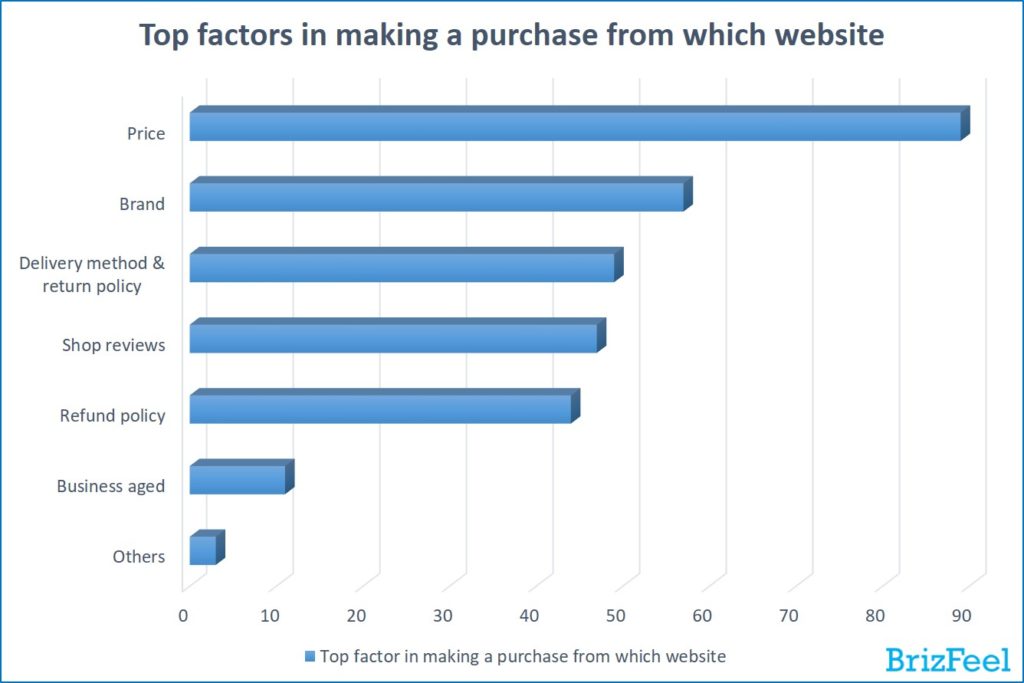 25. 46% of consumers made a purchase online for groceries.
26. Consumers valued unlimited free delivery from paid membership more than others (79%), followed by exclusive discount (63%), access to paid member only deals (57%), earning rewards from purchases (41%), priority support (38%), and lucky draw & events (22%).
27. 72% of consumers only purchase from credible websites to reduce the risk of online scam & fraud, 57% said they only purchase using the payment gateway they trust, 49% said they will avoid clicking on ads, 35% choose to use different passwords for different websites, 27% said they only use credit card with purchase protection, and 21% choose to purchase from their own country only to minimize the risk.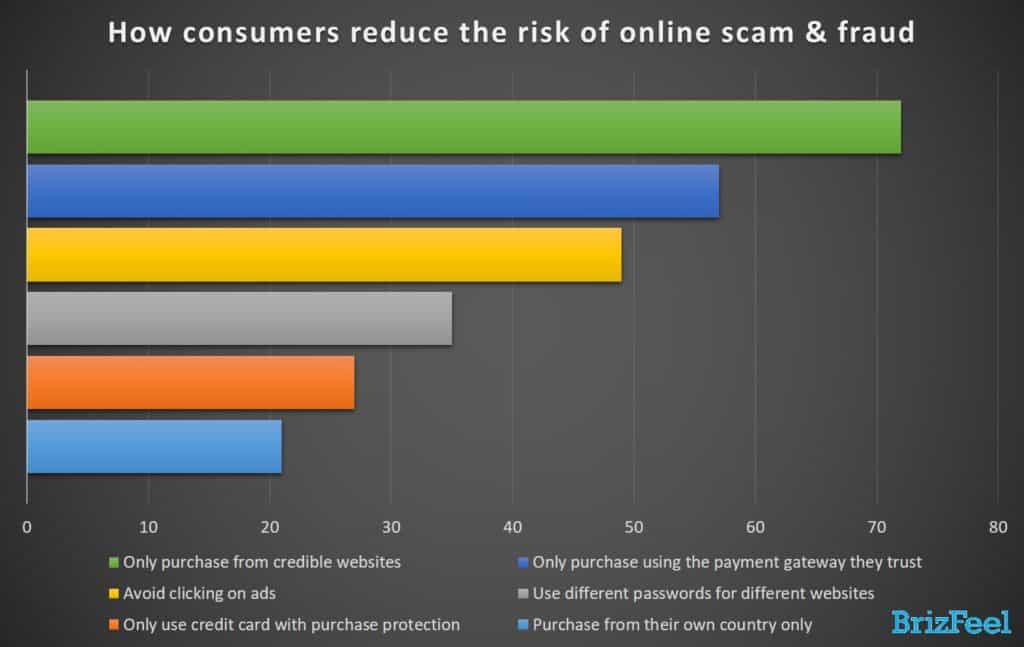 Insights: Consumers are more vigilant against online scams and frauds compared to the past. With that being said, it's crucial to make sure your website is credible in the eyes of consumers.
Cart Abandonment Statistics (E-Commerce)
28. 78% of consumers had abandoned their cart at least once.
29. The top reason for cart abandonment is high additional cost upon checking out at 67%, followed by a change of mind at 23%, payment issue at 6%, and other reasons at 4%.
Goods Delivery Survey
30. 91% of consumers are expecting to receive their goods within 3 business days.
Insights: Delivery speed playing a key role in pushing the e-commerce trends through improving consumers instant gratification shopping experience – whenever they want something, they can order it, and receive their items in 1-3 business days, rather than wait for their next shopping trip.
31. 37% of consumers said they are willing to pay extra for the same day delivery.
32. For the extra delivery benefits (offered at no additional cost), 67% of consumers preferred same day delivery, followed by free return shipping at 65%, parcel tracking at 59%, delivery at specific time slot at 57%, shipments insurance at 43%, and pick-up at nearby partner stores at 9%.
33. Only 14% of consumers trust drone device as a delivery method for any product, while 17% said they can consider for low-value products.
Insights: Consumers are not ready yet for drone as a delivery option. They still trust human much more than technology when comes to goods delivery, especially high-value goods.
But in the future, technology devices may get universal acceptance and play a part in delivery.
In-Store Shopping Survey
34. The most common factor to shop at a particular physical shop is price (89%), followed by location (51%), stock availability (41%), brand (40%), good warranty & return policy (28%), good loyalty program (21%), parking availability (18%), and shop environment (12%).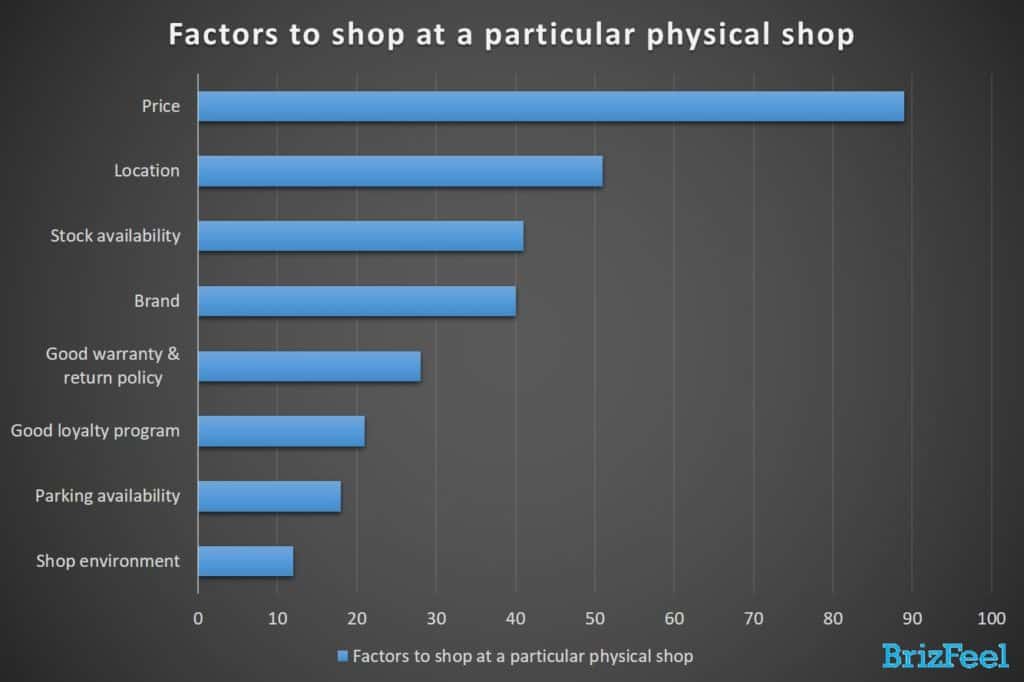 Insights: Good location, stock availability, and brand are the three important factors after the price for consumers to choose which particular store to shop.
35. 38% of consumers said they shopped at physical stores regularly.
Insights: Despite the e-commerce trends are on the rise, consumers still shop at physical stores for various reasons.
Amazon Survey (based on US & UK)
36. 92% of consumers said they used Amazon for their purchases.
37. 41% of consumers said they check and compare the price on Amazon.
38. 33% of consumers said they start their product search on Amazon.
39. 38% of consumers read product reviews on Amazon.
40. 62% of consumers said they shopped regularly at Amazon.
41. 9% of consumers said they only shop on Amazon.
Insights: Amazon was used heavily in certain countries like US and UK, while not much on some region such as Eastern Asia and Southeast Asia.
Consumers Shopping Experience Feedback
42. 34% of consumers said that buggy and complicated website is the most frustrating aspect when come to shopping online, followed by too many ads & pop-ups at 29%, slow website at 28%, and lack of product information at 9%.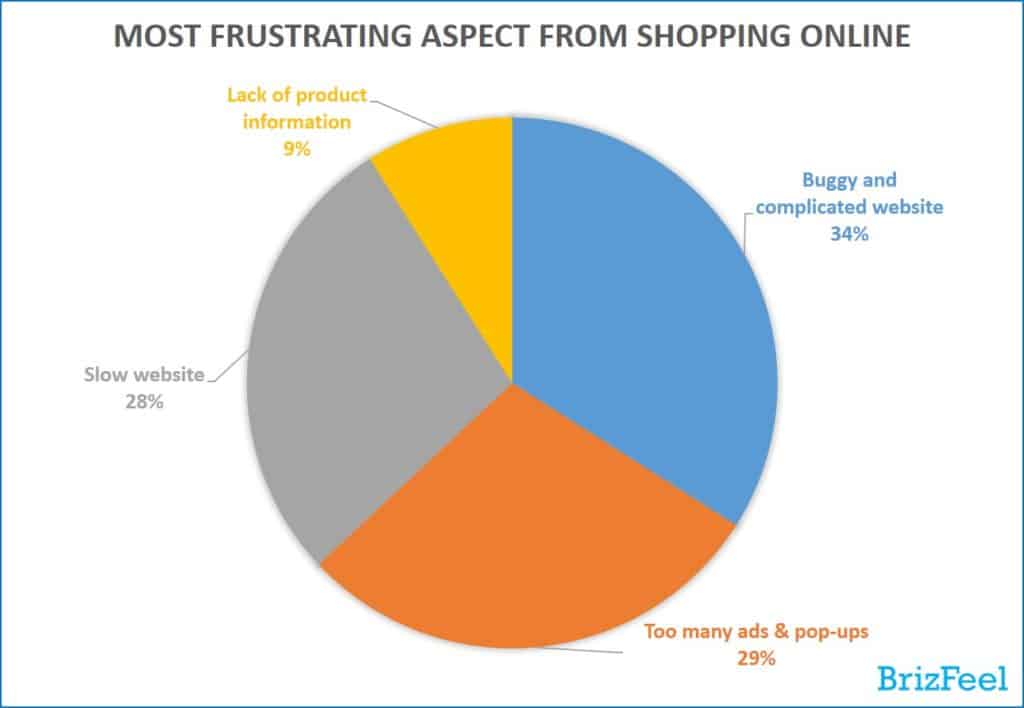 43. Only 27% of consumers said they will try to access a website again after they had trouble accessing it, while 73% of consumers said they will visit another website.
44. 96% of consumers said they preferred mobile offers than print offers.
45. 93% of mobile consumers said they prefer to shop online using mobile shopping apps over the mobile browser.
46. 63% of online consumers said they prefer to shop online using pc (39% due to larger screen size and 24% due to functional limitations using mobile browser/shopping apps), while 37% of consumers prefer using mobile phone (28% due to accessibility and 9% due to loading speed).
47. 55% of female consumers said that they enjoy online shopping compared to 35% of male consumers.
48. The top factor that drives customer loyalty for online consumers is customer experience (43%), followed by price (36%), brand (19%), and others (2%).
Insight (e-commerce trends): While price is the top factor for consumers to choose which website to buy from, however, the top factor that drives customer loyalty is customer experience.
If you want more repeat sales from a group of loyal customers, gives an exceptional shopping experience to them.
E-Commerce Trends (from 2018 onwards)
Understand the latest e-commerce trends.
49. 30% of consumers said they will spend more on products and services in the next 12 months, while 51% of consumers said they will spend around the same, and 19% said they will spend less.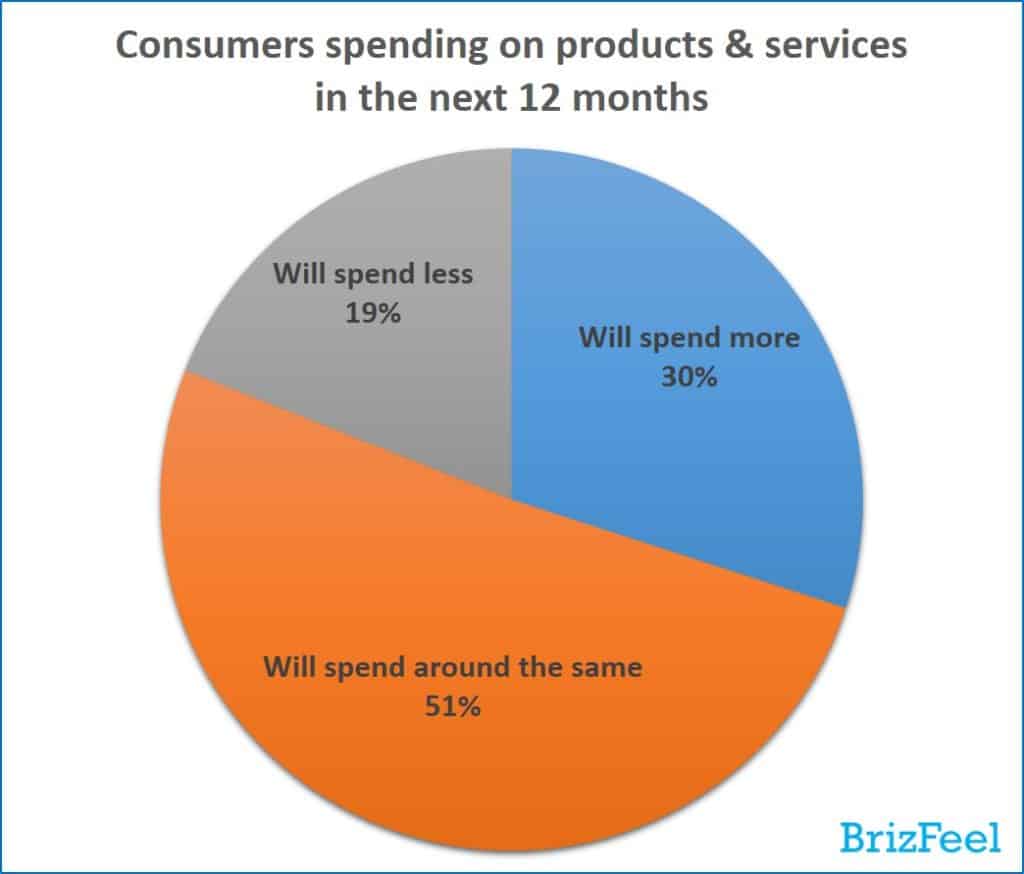 Insights: Majority of consumers are confident about their financials and market in the coming 12 months.
50. 56% of consumers spending more on buying products while 44% of consumers spending more on valuable experience.
Insights: Compared to the past, more consumers are willing to spend more on valuable experiences that can be shared on their social networks and memories for the future.
Conclusion
Based on our consumers expenditure survey, online shopping using mobile apps is what preferred by consumers nowadays. It's one of the e-commerce trends and future for retail shopping.
While online shopping and e-commerce is the current retail trend, however, based on our online shopping vs store shopping statistics, brick-and-mortar shop doesn't seem to die out anytime soon. It seems like consumers are seeking something else from physical shopping.
From our understanding, consumers are shifting their views about in-store shopping from necessary to something sensory like social experience and lifestyle.
That's one of the reasons why shopping malls are still crowded during weekends and public holidays, and many physical stores still have their desired weekly visits.
It's just that physical shops need to understand and catch up what consumers are looking for in order to sustain and grow their businesses.
For in-store retailers, we believe the best way is to become an omnichannel retailer as consumers shop across both online and offline channels.
For online retailers, understand the consumers shopping behaviors and approach them strategically is the way to stand out from the crowd, especially in this competitive online retail world.
So, make use of the e-commerce statistics data to increase your competitive advantage.
Related Post:
Coronasvirus Impacts on E-Commerce and Retails [Survey]
443 Digital Marketing Statistics and Facts
How Much Money You Can Save with Water Filter
Spread the love
2.5K
2.8K
1.3K
24

6.6K

Shares