When you buy via links on our site, we may earn a small commission at no additional cost to you.
Water Filter pitchers are affordable and effective solutions to filter the contaminants in your tap water, which also improve the taste and odor to a great extent. Brita manufactures some of the best-selling water filter pitchers in the US market.
The Brita filters need to be replaced once in a while to ensure the best-tasting filtered water. When you're in the market for a replacement filter, there are quite a few options offered by Brita.
In this article, I'll review and compare all the replacement filters by Brita to help you find an ideal pick for your water filter pitcher.
Brita Standard Replacement Filter Review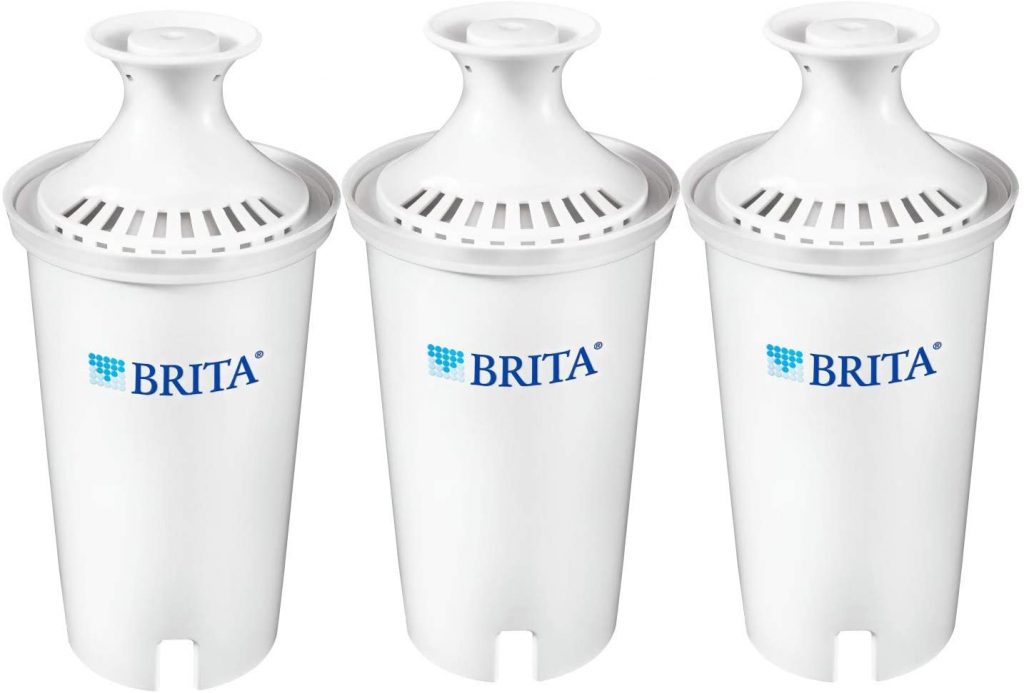 Design and Build Quality
These filters come with a standard frustum design with dimensions 2.31×2.31×5.31 inches and weigh only about 0.13 pounds. The length with this standard filter is pretty average but is enough for standard use. It's made out of Polypropylene, and the overall build quality is sturdy, even though I don't replace the filters as per the advised timeline, but they seem to work fine over that. Brita Standard Filters are designed to fit perfectly in all the Brita Pitchers and dispensers except Stream Pitchers.
Features and Specifications
This standard filter from Brita eliminates chlorine taste and odor quite well. Moreover, this filter significantly reduces other Copper, Mercury, and Zinc contaminants. Brita Standard Filter is a brilliantly economical product that remarkably reduces plastic waste. You can put one standard Brita Filter to replace about 300 16.9 Oz single-use plastic water bottles! The actual cost of hydrating yourself these days hurts the environment negatively, but with Standard Brita Filters, plastic waste is significantly reduced.
Installation
Installing Brita Standard Filters is relatively easy in all senses, thanks to the top cap, which you can pull easily and quickly without needing presoaking. So, if you are bothered with chlorinated water taste, you'd be just a few minutes away from having a much-enhanced cup of water.
Filter Life
Brita officially recommends replacing these standard filers every 40 gallons, which would use roughly two months, a great deal for the price. I might have gone a little over the recommended range, but make sure not to exceed replacing your filter out of the recommended timeline. Check the taste and color of filtered water frequently to understand if your filter is working fine.
Brita LongLast Pitcher Filter Review
Design and Build Quality
Weighing just about 0.24 Pounds, Brita LongLast Pitcher Filters are way better than any standard filter you can have at home! With similar dimensions of 2.31 x 2.31 x 5.31 inches, the overall filtering capacity of this filter is better than a standard filter. The material used in producing the filters is Polypropylene; with Blue colored water filters made without BPA, you get an enhanced water formula in your glass. Like the Standard ones, Brita LongLast Pitcher Filters are compatible with all the Brita Pitchers and dispensers except stream.
Features and Specifications
After installing these filters, the first glass of water you drink will feel nothing less than pure bliss. Brita LongLast Pitcher Filter reduces 99% of the lead, filters the water from chlorinated taste and odor, and removes other metal impurities such as Mercury, Benzene, and more. Brita LongLast Filters filter out 3x more contaminants than the standard Brita Filters!
Brita LongLast Filters are excellent in terms of cost efficiency, as one LongLast Filter can replace 900 single-use plastic water bottles. When adjusted for yearly use, that becomes 1800 water bottles a year! Truly something one should look for as an eco-friendly option. Brita also features a pull-top cap for easy removal without any necessary presoaking!
Installation
Installing Brita LongLast Pitcher Filter is not complicated if you have installed any standard filter earlier since it's more or less similar, just with different dimensions. Lift the lid of your pitcher to remove your old Brita filter and replace it with the new one. Press it firmly to confirm a tight seal and put the lid back on.
Filter Life
LongLast Filters from Brita filters require replacement for every 120 gallons, which is relatively higher than the standard filters. One hundred twenty gallons should last for about six months in a regular one-person household but could come down to 4 months in a workspace. With these numbers, a couple of LongLast Filers are sufficient to get you through the year.
Brita Stream Filter Review
Design and Build Quality
Brita Stream Filters are well-known for filtering and producing excellent water taste in a larger cup, weighing about 3.2 ounces, and a space-efficient design with dimensions of 5.63 x 1.93 x 4.8 inches. The volume and capacity featured with these filters are more or less similar to Brita LongLast filters, but compatibility makes these filters different from others!
As I mentioned, you cannot use Standard and LongLast filters in Brita's stream pitchers. These uniquely designed filters are particularly made for this purpose and only fit stream pitchers. You cannot use these filters as a replacement in any other pitcher type.
Features and Specifications
The taste of water with Brita Stream Filters has been the biggest highlight for me while comparing all four head-to-head. Since Brita Stream Filters are built exclusively for Brita Stream pitchers, they are much more focused on the pitcher, reducing chlorine to a better extent just moments after pouring water into them. The speed you get filtered water with Brita Stream Filters is unparalleled. Brita Stream Filters come with an activated carbon filter, which instantly makes the chlorinated taste unnoticeable from water.
Brita features not only an electronic filter indicator but also a fully-locking lid with this Stream filter! In terms of cost-efficiency and accessibility, Brita Stream Filters defeats every Brita Filters by a considerable margin. One Brita Stream Filter can replace about 300 plastic water bottles, making it a much better friend for the sustainable future.
Installation
Installing a Brita Stream Filters will take about 15 seconds; it's that easy! As said earlier, Brita stream filters are inserted into the cage just by a click- there's nothing I could've done to explain the installation any better.
Filter Life
As per Brita, negative effects in the water have been observed after 40 gallons of usage in these stream filters, so you'll get a filter life of about two months with Brita Stream Filter. Not the best when compared to standard and Longlast filters, but with the ease with which these Stream Filter work, it's worth it!
Brita LongLast+ Water Filter Review
Design and Build Quality
Built entirely on durable and sturdy plastic with the dimensions of 7 x 5.5 x 2.5 inches, LongLast+ Water Filters from Brita comes with an even increased volume and capacity from the LongLast Filters. Again, just like the Longlast filters, Longlast+ are perfectly compatible with all of the pitchers and dispensers from Brita except Stream.
Features and Specifications
LongLast+ Filters from Brita not only remove the most common excruciating taste of chlorine but also reduce metallic impurities such as Cadmium, Mercury, and Lead to 99%! Filtering out three times more contaminants than the standard Brita filters, you get much cleaner and amazingly tasting water without any impurities with LongLast filters.
For the price LongLast+ Filters come under, you not only save loads of money from spending on one-time-use plastic water bottles, but you also get an eco-friendly product. For the featured capacity and filter life, one LongLast+ Filter replaces 900 single-use plastic water bottles; moreover, they also last three times more than a standard 40-gallon filter!
Installation
The pull-top cap on the BPA-free makes installation much easier for everyone. Insert the filter into the reservoir, then line up the notch of the pitcher with the filter groove, and to ensure a seal, press firmly- that's it, you are done!
Filter Life
Brita features a 120-gallon water operational capacity with one LongLast+ Filters, which should be sufficient for six months in a regular one-person household. So, just a couple of Brita Longlast+ Filter will get you by the year.
Brita LongLast vs. Standard vs. LongLast+ vs. Stream Filter
Brita LongLast vs Standard
Standard and Longlast filters come with very similar dimensions and are compatible with a wide range of Brita Water filters, excluding the Stream Pitcher range. One can easily differentiate between the two filters based on their color finish; Longlast filters have a blue finish while the standard filters are white.
Longlast filters use a unique filtration technology that consists of a long-lasting pleated filter, while the standard filter has a regular Ion-exchange resin with activated carbon.
It's pretty evident by the name that LongLast filters by Brita are designed to last for extended usage and have a better lifespan compared to other filter types.
Even though Brita's standard filters are capable of providing you with a high filtering capacity of 40 gallons that lasts for two months, investing in a LongLast filter will deliver a 120-gallon filtering capacity and save you from the hassle of replacing your filter every month or two.
However, they are three times more expensive than a standard filter.
Brita Stream vs Brita LongLast
When comparing Brita's LongLast filters with Stream filters, the most obvious difference you'll notice is the cylindrical shape of stream filters which is particularly designed to fit in Brita's stream pitcher range. You cannot use LongLast or Standard replacement filters with Stream pitchers and vice versa. The filters are made of highly durable polypropylene material and double-layered filtration technology that outperforms other ordinary filters.
Among all the filter types, LongLast filters have the highest lifespan and come with a 120-gallon filtering capacity, three times higher than the stream filter's 40-gallon capacity, which lasts only two months. Although the stream filters are a lot cheaper, the only issue for stream pitcher owners is that they'll have to deal with the hassle of replacing these filters multiple times a year because of lower capacity.
Brita Filters Comparison: Which Is Better for You?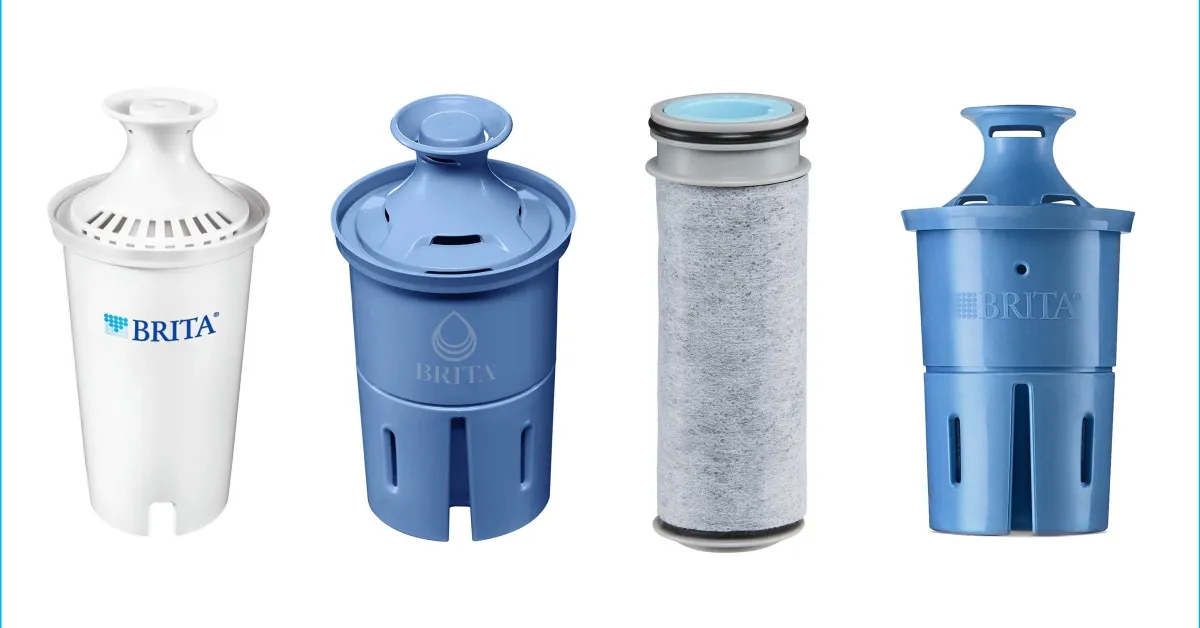 Contaminants removal
A standard Brita filter is capable of removing copper, cadmium, mercury, and chlorine from drinking water, while a LongLast filter can remove up to 15 different contaminants. Longlast+ Filter is undoubtedly the best when it comes to contaminants removal as it uses the advanced NSF-certified pleated filter technology designed to remove up to 30 contaminants from water. Stream filters can only filter the chlorine and improve water taste; they're not designed to reduce other impurities.
Filter Life
As the name suggests, Longlast+ and Longlast Brita filters are manufactured for longevity and extended usage. These high-capacity filters are enough to last about 4-6 months of use, depending on your water quality and demands. Meanwhile, standard and stream filters are suitable for two-month usage.
Cost
Standard and Stream Brita Filters will cost you around $5 to $6 a piece depending on the total units you buy; they're the least expensive filter types manufactured by Brita. LongLast and LongLast+ filters have an average retail price of $14 to $21 a piece, which I think is justified as you don't have to worry about consistently replacing your filter every month.
FAQs
1. Are all Brita filters the same?
No. Different Brita filters come with different capacities, compatibility, and technology. Some filters remove more contaminants, while others can only remove chlorine.
2. Do all Brita filters fit all pitchers?
Brita offers a wide range of water filter pitchers and dispensers of different sizes. All Brita filters are compatible with these pitchers and dispensers except for the stream filters. Stream pitchers use specifically designed cylindrical-shaped stream filters.
3. Why does Brita filter float?
While some latest Brita filters don't require presoaking, you may notice your filter floating in some cases due to the trapped air inside its container. The easy solution to floating is to soak your Brita Filter with water for about 10-15 minutes to ensure air removal from the container.
Conclusion For Brita LongLast vs Standard vs Stream Filter vs LongLast+
There's no definitive answer to which Brita filter is better or worse. Picking an ideal filter depends on your pitcher type and the different contaminants present in your tap water.
If you're an individual with limited usage, a standard filter would be a wise pick as it's affordable and sufficient for single-person use.
A Longlast or Longlast+ filter is ideal for filtering water with more contaminants at a higher capacity and is suitable for a family of two or more.
If you own a stream pitcher, you have no option but to purchase a stream replacement filter. I hope this Brita filter guide helped you find the right filter for your pitcher.
Read Next: