Disclaimer: BrizFeel is reader-supported. When you buy via links on our site, we may earn a small commission at no additional cost to you.
Water Dispensers are machines that provide you easy access to drinking water using multiple sizes of water jugs. These dispensers are equipped with an ice-making feature to deliver a continuous supply of cold, ice-cold water and ice. Some of them can also provide hot water that can be very useful to brew a fresh cup of coffee or cook food. Water Dispensers offer an excellent temperature range and save you a lot of time.
In this article, I'll discuss and review some of the best water dispensers with ice makers and help you find an ideal dispenser for your home or office space.
The 5 Best Water Dispenser with Ice Maker Reviews
1. Best Water Dispenser with Ice Maker (Freestanding): Antarctic Star 2-in-1 Water Dispenser with Built-in Ice Maker Review
Highlights:
Makes nine ice cubes within 10 minutes; creates up to 27 pounds of ice every day.
Available in black and white options.
It uses two, three, and five-gallon water bottles.
The dispenser delivers 5 liters of hot and 4 liters of cold water every hour.
Antarctic Star's water dispenser is a freestanding machine with a sleek and elegant design suitable for small homes or public spaces. The dispenser uses 3 or 5 gallons of bottle or water jug to deliver 4 liters of ice-cold water every hour. It also offers you 90°C steaming hot water that can be used to cook instant meals, coffee, and other beverages. The built-in ice maker produces nine cubes of ice in only 7 minutes and is capable of making 27 pounds of ice every day.
The machine uses a reliable compressor that doesn't make a lot of noise while operating, so you can also keep it in your living room, and it won't bother you while resting. The two buttons allow you to set the water temperature as per your preference, and an additional switch is included for the ice maker.
It also consists of six LED indicators and a removable drip tray that provides great convenience and makes the operation hassle-free. The hot water faucet also features a child lock that frees you from worrying and prevents accidents.
Pros:
Stylish design and colors
Better insulation with high-density foaming
Easy to use and clean
Cons:
2. Best Water Dispenser with Ice Maker (Countertop): FOOING 3-in-1 Portable Water Dispenser Review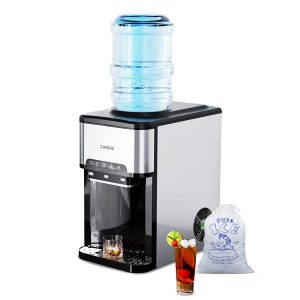 Highlights:
It makes up to 12 bullet-shaped ice blocks in seven minutes, up to 44 lbs daily.
Features a separate water storage reservoir and a water jug compatibility of two to five gallons.
Reliable and quiet compressor along with an effective exhaust fan for cooling.
Touch screen panel and buttons along with a child lock.
FOOING's 3-in-1 dispenser is the best countertop ice maker and water dispenser, with great design and functionality. It's a stainless-steel machine with an easy-to-use touch panel and buttons that give you access to a higher capacity of ice blocks and cold and hot water.
The dispenser is equipped with a heavy-duty compressor that generates lower noise below 45db. An exhaust cooling fan at the side circulates the air flow and blows out the hot air with excellent efficacy to fasten the ice-making process.
It has a cold temperature range of 35-42°F and a tank capacity of 2.5 liters. On the other hand, the water tank can only store 0.8 liters of water, which is ideal for single-person usage.
Like Kismile's dispenser, this machine allows you to use water bottles or add the water directly to the provided reservoir. With a high ice-making capacity of 44 pounds a day and the production cycle of 12 cubes in 7 minutes, the dispenser assures you chewable bullet-shaped ice cubes for all your favorite drinks.
Pros:
Classy stainless-steel design
User-friendly control panel
Lightweight and portable
Cons:
No removable drip tray provided
3. Countertop Ice Maker Water Dispenser with Large Storage: Kismile Water Cooler Dispenser & Ice Maker Review
Highlights:
Capable of making 12 ice blocks in only eight minutes, up to 39 pounds a day.
The water dispenser uses highly durable and robust stainless-steel material.
Either use 3-5 gallons of water bottle or directly fill the water in the provided box.
A removable drip tray allows you to clean water spills with ease.
Kismile's 3-in-1 water cooler ice maker is a premium device made of durable stainless steel and has an attractive color combination that goes well with your décor. It's a compact dispenser with a comparatively small height and can be easily placed on tables and countertops.
The dispenser is suitable for 3-5 gallons of water bottles. You can also add the water directly to the machine instead of using water bottles. The cold-water tank has a storage capacity of 2.5 liters, while the hot water tank holds 0.8 liters of water.
The ice maker has a higher operating capacity of 39 pounds per day and can create around 12 bullet ice cubes in only 8 minutes. It also features a child lock for hot water to ensure your child's safety when you're not around. To use the hot water faucet, you must first press the hot water button to unlock it. The led lights make it convenient and easier to use under low-lighting conditions.
Pros:
Smaller in size
Lightweight, suitable for countertops
Above-average ice-making capacity
Cons:
Hot water tank capacity is less
4. Best Ice Maker Water Dispenser for Commercial: Manitowoc CNF0201A-L Ice Maker Water Dispenser Review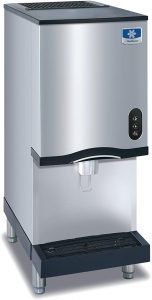 Highlights:
One of the highest capacities of 315 lbs per day and an operation time of 8 minutes.
DuraTech front panel for proper maintenance.
It comes up with a lever-style dispenser for simplified operation.
With a staggering ice-producing capacity of 315 lbs in a day, this water dispenser under the brand name Manitowoc is one of the most value-for-money water dispensers you could have your hands on for now! Manitowoc CNF0201A-L comes with a straightforward, compact yet highly efficient design that, coupled with the powerful air-cooled condenser, produces bite-sized, chewable ice nuggets.
Simple dispensing is extremely easy with this machine; just a gentle press on the container you want to add ice will instruct the machine to do the rest.
You get a total of three dispensing modes on this dispenser. "Ice Only" mode will be used when you want to chug on ice nuggets. The "Water Only" mode will let you have cold water. "Water and Ice" mode will deliver cold water with ice blocks. Operating Manitowoc CNF0201A-L is extremely easy, and you can toggle between all three modes with a touch of a button.
The Manitowoc CNF0201A-L comes up with easy maintenance, and the DuraTech front panel helps in protecting the dispensing area exceptionally well. The hard coating makes the dispenser sturdy and scratch-resistant; you can wipe off any debris with a piece of cloth.
Pros:
Great ice-producing capacity
Easy to clean
Effortless to toggle between the modes
Cons:
Not in the very affordable range
5. Budget Water Dispenser with Ice Maker: SOUKOO 2 in 1 Ice Maker Water Dispenser Review
Highlights:
Manages to create more than 48 pounds of ice in 24 hours.
It has a huge basket that can store about 4.5 lbs of ice.
Cooling exhaust fan to blow out and regulate hot air for optimal temperature.
This 2-in-1 Water Dispenser and ice Maker from SOUKOO has been one of the top-rated water dispensers you could get for yourself currently. With an easy-to-operate panel with soft buttons ensuring a simplified operation, SOUKOO Ice Maker Water Dispenser provides a continuous supply throughout by using 2, 3, and 5-gallon water jugs. Making ice is amazingly fast with this dispenser, and you can do it in about 8 minutes on average.
With this countertop ice-maker, you get an ice-making capacity of about 48 lbs/day, which should be decent enough for a small workplace. This water dispenser comes with an efficient compressor that operates in a super-quiet mode while making ice, which can be pretty helpful to ensure lower noise disturbance.
For even total newbies to the water dispenser, Soukoo guarantees excellent ease of using the dispenser with the indicators lights and all instructions to operate the machine.
Pros:
Very powerful compressor
Decent storage basket
Continuous supply of ice and cold water
Very easy to operate
Cons:
It demands spill-proof water bottles to avoid water spills
Comparison of the 5 Best Water Dispensers with Ice Maker
| | | | | | |
| --- | --- | --- | --- | --- | --- |
| Model | Rate (lbs/day) | Storage (lbs) | Water | Type | More Details |
| Antarctic Star | 27 | 4.4 | Hot, Cold, Room | Freestanding | Check here |
| FOONG | 44 | 2.6 | Hot, Cold | Countertop | Check here |
| Kismile | 39 | 4 | Hot, Cold | Countertop | Check here |
| Manitowoc | 315 | 10 | Room | Countertop | Check here |
| SOUKOO | 48 | 4.5 | Cold | Countertop | Check here |
How to Choose the Best Water Dispensers with Ice Maker (Buyer's Guide)
Type
The two common types of water dispensers you'll find in the market are: freestanding and countertop.
Freestanding dispensers use substantial water bottles and are bulkier than other dispenser types. They provide a higher hot and cold-water storage capacity and can be placed anywhere in your home or workspace.
On the other hand, the countertop dispensers are portable and lightweight machines ideal for a small home kitchen. Although the ice-making capacity of these dispensers is pretty high, you'll have to sacrifice the water storage capacity when buying these types of water dispensers.
Ice Production Rate and Storage
Different sizes and types of ice-making water dispensers offer different ice production and storing capacity.
A good dispenser provides an average production rate of 10 ice blocks in 5-7 minutes, and you can make around 30-45 pounds of ice in 24 hours. However, some high-end ice makers may provide you ten times more production of up to 300-400 pounds a day, but you'll have to spend thousands of dollars for these types of dispensers.
If we talk about ice storage, I recommend you opt for a dispenser with at least 2.5 pounds of storage.
Features
The purpose of water dispensers is to provide you easy access to ice and cold or hot drinkable water at any time. And to enjoy the best ice-making experience, you must consider some essential features of a water dispenser. These features include a temperature control panel with a user-friendly interface, an exhaust fan, and a safety lock for the hot water faucet.
Size
Most water dispensers acquire the same space and have similar lengths and widths. The noticeable primary difference between water dispenser types is their height.
While freestanding dispensers have an average height of 40-45 inches, the portable countertop dispensers are only 20 inches tall. The size of the dispensers doesn't specifically define their capacity, as most of these machine uses water bottles for supply.
Design
Although many water dispensers may look the same in design on the outside, there are some essential factors you should verify before making up your mind. Some of these bottled water dispensers and ice makers are also designed with an internal water tank for separate water storage.
Other fine details like a removable drip tray and touch screen panel make it convenient for users to use and clean the water dispenser.
Cost
When it comes to water dispensers with ice makers, a higher price promises a better ice-making capacity and water storage.
Benefits of Having a Water Dispenser with Ice Maker
Water dispensers offer many benefits, save you time and promote a healthy lifestyle. Whether you're in the mood to drink a hot cup of coffee or a glass of chilled water, these machines provide an improved capacity for boiling or ice-cold water with a button.
Additionally, dispensers with built-in ice makers are self-regulated and provide perfectly sized chewy ice cubes at your convenience.
Also, these dispensers save you from the hassle of regularly filling your ice trays and water bottles, which also requires a lot of space in your refrigerator. People addicted to coffee or tea know how annoying it is to boil water several times a day to brew a cup of your favorite drink. Using these dispensers, you can get an instant cup of 90-98°C near-boiling water that can also be used for making instant meals and much more.
In addition to saving space, these classy-looking appliances have a modern design that goes well with your home décor.
Conclusion
Above listed were some of the best water dispensers with ice makers in the market. Depending on your needs, you can pick between any of these freestanding or countertop water dispensers.
Make sure the machine you buy has sufficient water and ice storage and is compatible with a wide range of water bottles that'll provide you with multiple capacity options. If I had to pick one, I'd recommend you check out Antarctic Star's freestanding ice maker water dispenser, which offers excellent value for a low price.
Read Next: