When you buy via links on our site, we may earn a small commission at no additional cost to you.
Looking for the best juicers for celery?
Whether you are looking for ways to lose weight or jumpstart a journey towards a healthier lifestyle, drinking celery juice is one of effective ways to achieve your healthy lifestyle goal.
Celery has become quite popular because of the amazing benefits it offers. It can be prepared in many ways, either eaten raw or cooked.
However, juicing celery is now the mainstream way of preparing the very popular low-calorie vegetable.
In this article, I will show you the best juicers for celery juice to kickstart your healthy diet and lifestyle.
Top 3 Best Juicers for Celery Juice
Here are the 3 carefully picked best celery juicers for a healthy lifestyle.
Aobosi Slow Masticating Juicer – Best Masticating Juicer for Celery Juice
Omega MM900 HDS Slow Masticating Celery Juicer – Best Power Juicer for Celery Juice
Mueller Austria Juice Ultra Centrifugal Juicer – Best Centrifugal Juicer for Celery Juice
Types of Juicers for Celery Juice
There are several types of juicers out in the market for different purposes.
For juicing fruits and vegetables like celery, choosing the right type of juicer can be tricky as they have different textures.
The celery is very fibrous and has high water content thus it is best to choose the type of juicer apt for celery to avoid any wasting of the said vegetable.
Centrifugal Force Juicer
This type of juicer is the cheapest making it the most popular type of juicer in the market. They are also very convenient to use as they have the fewest number of parts of all the types of juicers, making them easy to use and clean afterward.
The juicer works by taking the fruits and vegetables through a feed tube and comes in contact with the blade and shreds them. The juice is then sent to the sides and into the jug by centrifugal force. This juicer is the fastest at doing its job with a speed of 3000-10000 rpm, separating the juice and pulp.
Masticating Juicers (Slow Juicers)
This type of juicer is on the pricier side as prices start at $200. It is known to be the slow juicer with a speed of 40-100 rpm and have a higher juice yield compared to centrifugal force juicers. This makes this juicer excellent for juicing vegetables and leafy greens. The juicer's mechanism uses a slow gear to crush fruits and vegetables. It then separates the juice and pulp by squeezing the produce.
Triturating Juicers
Triturating juicers, also known as twin gear juicers, use two gears assembled close to each other. These gears work by rotating and crushing vegetables and fruits resulting in very small particles.
With a speed of 80-100 rpm, it has a very high juice yield and creates a very dry pulp. Since it utilizes two gears, it creates a more stable juice.
Aside from juicing, it can also be used for making noodles and pasta, baby food, sorbet, among many others.
Twin gear juicers are the most expensive type of juicers, with prices ranging from $400-$2000. This is perfect for hard-core juicers and used in juice bars and cafes.
Top 3 Best Juicers for Celery Juice Reviews
Here are the in-depth reviews of the top 3 best celery juicers for weight loss and health.
1. Best Masticating Juicer for Celery Juice: Aobosi Slow Masticating Juicer Review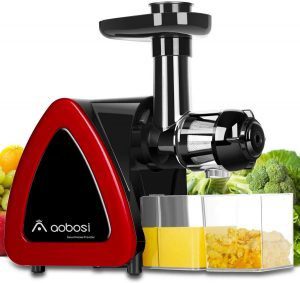 As suggested by its name, Aobosi is a masticating juicer and a cold press juicer machine. Like all masticating juicers, they have quiet motors and produce less noise when used.
It can extract various fruits and vegetables and can juice leafy greens and several types of grasses.
With a speed of 80rpm, the auger or blade can separate the juice and pulp effectively maintaining the fruit or vegetable's natural taste, color, and vitamins it offers.
Due to its slow speed, the machine also produces less heat when used.
Its oxidization rate is also very low, allowing you to take all the amazing benefits the celery has to offer. After juicing, the freshness of the juice is maintained for up to 72 hours.
Pros
Easy to clean and take apart
Makes less noise
High juice yield
Cons
Smaller chute thus requires time to juice bigger fruits or vegetables
Bulky and takes up more kitchen space
Slower and takes time to juice compared to other types of juicers
Why you should buy the Aobosi Slow Masticating Juicer for Celery Juice
This juicer is best for juicing celery as it fits perfectly into its small chute. With its slow auger, it can efficiently juice celery and retain its vitamins and natural taste.
Aside from celery, this Aobosi masticating juicer is best for wheatgrass and maintains the juice's freshness which can last up to 72 hours.
2. Best Power Juicer for Celery Juice: Omega MM900 HDS Slow Masticating Celery Juicer Review
Omega has one of the best juicers for celery juice in the market. Their MM900 HDS slow masticating juicer is perfect for extracting juicers like celery.
Slow masticating juicers are also called cold press slow juicers as they produce minimal heat all thanks to its speed of 80 rpm.
This juicer is perfect for juicing celery as it has an adjustable celery end cap attachment for maximum celery juice output and extraction. It produces one of the highest juice yields for celery.
Aside from this, it also includes a standard adjustable end cap for other products and 3 adjustable pressure settings for each cap.
This masticating juicer, like that of other masticating juicers, produces less noise when being used. With a 2 horsepower motor, it is quite powerful at juicing but still silent.
It also promises less wasting of produce for a more efficient juicing.
Pros
Slower degradation and juice separation
Additional celery attachment
Easy to clean
Cons
Pricey
Requires longer time in preparing and juicing
Small chute
Why you should buy the Omega MM900 HDS Slow Masticating Celery Juicer
The Omega MM900HDS is the perfect juicer to use when juicing celery all because of its extra celery attachment, which helps in increasing the juice yield.
With its efficient 2 HP motor, juicing need not be noisy with this slow masticating juicer.
The cold press juicing also aids in retaining all the good stuff celery has to offer with a very low oxidation rate and a degradation time of up to 72 hours.
3. Best Centrifugal Juicer for Celery Juice: Mueller Austria Juice Ultra Centrifugal Juicer Review
If you are looking for a fast juicer or are still a beginner at juicing, this centrifugal juicer is perfect for beginners like you.
This 1100-powered centrifugal juicer promises to produce 16oz of juice in just seconds.
It also offers a dual-speed versatility of which you can choose from, "1" for low speed runs ranging from a speed of 12000 to 15000 rpm and is perfect for softer fruits, and "2" for faster speed runs with 15000 to 18000 rpm and can juice harder fruits and vegetables.
Pros
Fastest at extracting juice
Cheapest of all juicer types
akes up minimal space on your kitchen countertop
Cons
Due to its high speed, juice tends to degrade at a faster rate
The oxidation rate is very high leading to juice separation occurring very quickly
Very noisy to use
Why you should buy the Mueller Austria Juice Ultra Centrifugal Juicer for Celery Juice
Centrifugal juicers are perfect for beginners who are still trying out juicing as it is cheap and very affordable.
They are also very convenient to use as their chutes tend to be bigger and wider compared to other juicer types, which makes prep time shorter.
Due to its high speed, the juice tends to separate more quickly though and degradation time occurs a bit earlier.
Benefits of Drinking Celery Juice
Celery boasts an abundant array of vitamins, minerals, and antioxidants. It is a good source of folate, potassium, manganese, vitamin B5, dietary fiber, among many others.
Aids in weight loss
One cup of celery juice (240 mL) contains 42.5 calories. This is also the best drink to have in the morning to jumpstart your day and help in losing weight. It is also rich in fiber which helps in suppressing the appetite.
Since celery already has 5 grams of sugar, this drink is perfect as a substitute for sugary drinks which are high in calories. Choosing this over sodas and energy drinks helps in cutting sugar intake.
Helps in achieving clear skin
Celery juice has high water content, which means the drink is good for maintaining hydration. Hydrating the body is very important especially when you want to achieve clear skin.
Aside from water, it also contains sodium and potassium which helps in keeping the skin hydrated and avoids the appearance of dry, flaky skin. Keeping your skin's elasticity also helps in preventing fine lines, wrinkles, and acne.
Post-workout drink
Due to its high magnesium content, a cup of celery juice is perfect as a post-workout drink as it aids in muscle recovery and helps boost energy.
 Anti-inflammatory properties
Celery contains phytonutrients and antioxidants which reduces inflammation and lowers oxidative stress. It also contains a phytochemical called phthalide which is said to relax arterial walls, resulting in increased blood flow and lower blood pressure.
Flush away toxins
Drinking celery juice helps wash away toxins due to its rich content of vitamins A, B, and C and iron. The presence of the phytochemical butylphthalide triggers the kidneys to produce more urine, thus this is considered as a natural diuretic and helps flush the liver. Flushing the liver aids in cleansing the body and also increases the production of bile.
What to Look for When Buying the Best Celery Juicer (Buying Guide)
Now that you have decided to take on a healthier diet and try juicing, the next step is to purchase the best juicer suited for your needs.
So, how do you choose the right juicer? What do you look for when buying the best juicer for celery juice? Here are helpful tips and buyer's guide when choosing juicers.
With so many types of juicers in the market right now, choosing the right juicer for you can be a daunting task.
Fortunately, you will only need to focus on 2 categories that will lead you to your next best juicer for celery juice.
Choosing juicers have been made easy all thanks to these two categories:
A juicer that is fast and easy to use, clean, and store
Aa juicer that is slow in processing produce, harder to clean, but retains almost all of the nutrients and can be kept for a few days.
If you are a beginner, then centrifugal juicers are the right fit for you as they are more affordable, easy to use, and fast.
Their main takeaway is that they produce lesser juice compared to their counterparts.
However, if you are one who already knows about juicing for a longer period and wants to invest in a better juicer, then masticating juicers and slow juicers are the ones fit for you.
If you are basing your choices on the price, centrifugal juicers are the cheapest while triturating or dual gear juicers are on the pricier side.
If you are looking to maximize the benefits of celery juice and take in as many vitamins and antioxidants as you can get then triturating juicers are the ones you need as the slow speed of the machine allows for a higher juice yield and a better juice quality.
Triturating and slow juicers are also known for their slow oxidation and degradation rate and allow you to store your juice for a couple of days without any juice separation occurring.
However, if this is not your concern then a centrifugal juicer will work best for you.
Summary for the Best Juicers for Celery
Here are the summaries of the 3 best celery juicers in the market to help you in making the decision.
Aobosi Slow Masticating Juicers [Check Price]
This slow masticating juicer is perfect for juicing celery as it offers high juice yield.
With its auger's speed at 80 rpm, it produces less heat buildup and oxidation. It also promises less noise compared to other juicers. The Aobosi features a safety lock design for easy assemble and disassemble of parts.
Omega MM900HDS Slow Juicer [Check Price]
The Omega slow masticating juicer makes juicing celery easier because of its additional celery cap attachment.
It also produces high juice yield and dry pulp. Its dual-stage masticating extraction retains all of the nutrients and vitamins that celery contains to help boost your immune system.
Mueller Austria Centrifugal Juicer [Check Price]
This centrifugal juicer is best for those who are still beginners in the juice diet. It is very affordable, easy to operate, and can be cleaned easily.
Best Juicers for Celery: FAQs
1. How many fruits and vegetables can I juice in one sitting?
The quantity of fruits and vegetables that you can juice in one go depends on your juicer's chute. Some juicers have wide, larger chutes which allow for bigger fruits and vegetables to be juiced without slicing it. For some juicers with smaller chutes, they need to be sliced into small pieces to fit in the chute.
2. Does it juice celery?
Juicer machines can juice any fruit or vegetables including celery as long as it can fit into the chute.
3. How to clean celery juicers?
Juicers come with manual guides which tells you how to remove parts of the juicer for cleaning. Some types of juicers can be disassembled easily while other types require more effort.
Let's Kick Start Your Healthy Journey With The Best Juicers for Celery!
Drinking celery juice regularly is proven to be beneficial to the drinker's body.
Celery juice boasts numerous vitamins, antioxidants, and minerals which help in maintaining the body in tiptop shape. It also aids in weight loss as it is low in caloric intake.
Now that you have all the information you need when it comes to celery juice, its benefits, the type of juicer you will be needed in making one, and the best juicers for celery juice, you are now finally on your way to a more healthy lifestyle and diet.
Read Next: