Wondering where to eat the best dim sum in Charlotte? No worries! Here're the best restaurants in Charlotte that serve amazing dim sum!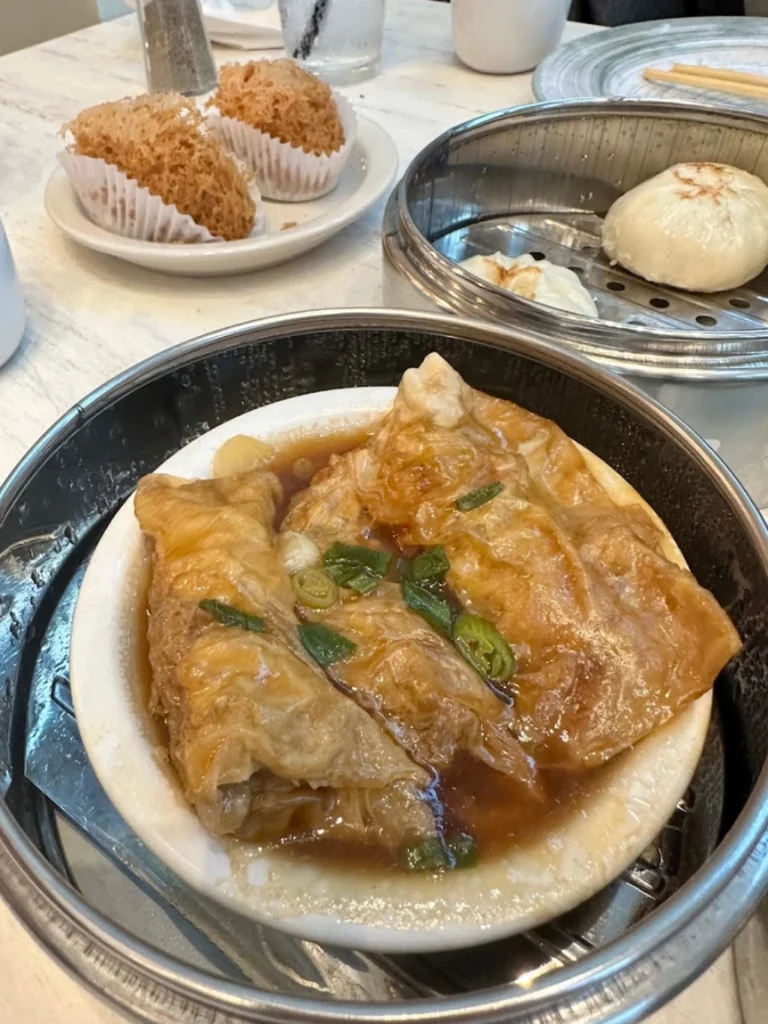 When you buy via links on our site, we may earn a small commission at no additional cost to you.
Let's dive right into the tasty world of dim sum in Charlotte. Now, I gotta admit, finding a dim sum spot in the Queen City can be a bit like hunting for buried treasure. It's not exactly on every corner like your usual fast food joints. But hey, that's what makes discovering the best dim sum places here so darn exciting!
You'll often hear folks say, "It is hard to find a dim sum restaurant in Charlotte." And they're not kidding! But when you finally do find one, it's like discovering a hidden foodie paradise.
So, while it might be a bit of a challenge to uncover the best dim sum in Charlotte, once you do, it's an experience you won't forget.
Remember to Protect Yourself When Going Outdoor!
Top 4 Best Dim Sum Restaurants in Charlotte!
Are you ready for the best dim sum in Charlotte? Let's go!
1. Dim Sum in Charlotte – Open Rice Metropolitan
Looking for a dim sum experience that'll transport you straight to flavor town? Look no further than Open Rice Metropolitan in Charlotte. It's the ultimate dim sum destination, and here's why you should get yourself over there pronto.
If you love dim sum like I do, you'll be doing a happy dance when you find out that Open Rice Metropolitan is the real deal. It's the one and only spot in Charlotte where dim sum takes center stage. With a jaw-dropping selection of nearly 30 dim sum dishes, they're giving you more bite-sized delights than you can shake a chopstick at.
Now, I don't know about you, but when it comes to authentic Asian flavors, Open Rice Metropolitan is the go-to place for Asian families in the Queen City. You know it's legit when the locals swear by it. And speaking of legit, they serve up dim sum in the morning, which is like a breakfast of champions for dim sum enthusiasts like us.
Let's talk must-try dishes. Trust me; you can't go wrong with their soup dumplings (Xiao long bao), Har Gow (Shrimp Dumpling), Siu Mai (Pork Dumpling with Shrimp), Shanghai pan-fried dumplings (sheng jian bao), taro dumplings, and BBQ pork buns (char siu Bao). Each bite is a flavor explosion that'll have your taste buds doing a victory dance.
Now, let's dish about the experience. The servers are as friendly as your favorite neighbor, and the service is top-notch. The atmosphere? Oh man, it's the perfect blend of cozy and vibrant, making every bite feel like a mini celebration. And the food? Well, it's nothing short of outstanding.
1100 Metropolitan Ave suite 100, Charlotte, NC 28204, United States
2. Dim Sum in Charlotte – Honey Bun's Cafeteria
If you love dim sum and you're in Charlotte, listen up because I've got the scoop on a gem that's about to make your taste buds do a little happy dance. Welcome to Honey Bun's Cafeteria, the place to be when you're craving a delicious dim sum feast.
First things first, let's talk about the dim sum lineup. I mean, we're talking about a restaurant that serves up a smorgasbord of dim sum delights like Shrimp Dumpling, Pork Shou Mai, Pearl Meatball, Sweet Rice Dim Sum, Chicken Feet, Scallop Dumplings, Taro Bun, Teriyaki Chicken Bun, Veggie Bun, Red Bean Bun, Malay Cupcake, BBQ Pork Bun, Kimchi Pork Bun, Chinese Pork Bun, Vietnamese Pork Bun, and Korean Pork Bun. Phew, that's a mouthful, and trust me, each dish is more tempting than the last.
Now, let's get down to the nitty-gritty of what you absolutely must try. I recommend diving into the Pork Shou Mai, Shrimp Dumplings (Ha Gao), BBQ Pork Buns, and Custard Buns. The Pork Shou Mai is like a savory flavor bomb in every bite. The shrimp dumplings are perfectly seasoned and have that delightful springy freshness. But the real stars of the show? Those buns! Soft, fluffy, slightly sweet, and just the right amount of firmness to hold all that deliciousness. The BBQ pork filling? It's marinated to perfection—salty, sweet, and oh-so-meaty. And the custard bun? Sweet, creamy, and with a hint of milky goodness that pairs perfectly with the warm, airy bun.
But here's the kicker, folks. Honey Bun's Cafeteria isn't just any dim sum joint. It's one of the few places in Charlotte where you can get the real deal, authentic dim sum.
7323 E Independence Blvd, Charlotte, NC 28227, United States
3. Dim Sum in Charlotte – The Dumpling Lady
Looking for a dim sum experience that'll set your taste buds on fire? Look no further than The Dumpling Lady in Charlotte. This restaurant is not just good; it's one of the best spots in town for dim sum, and here's the spicy lowdown.
If you love dim sum with a kick, you've hit the jackpot here. The Dumpling Lady is famous for their spicy dumplings, and let me tell you, they don't disappoint.
Their dim sum menu includes pork and veggie soup dumplings, pan-fried pork dumplings, vegan veggie dumplings, pork & chives dumplings, shrimp & chicken dumplings, sweet pork belly dumplings, and Chengdu style dumplings.
Now, I've got to spill the beans on one tiny drawback: The Dumpling Lady serves up their dim sum at limited times. So, make sure you plan your visit accordingly because you won't want to miss out on this dim sum extravaganza.
And let's not forget the cherry on top of this spicy dim sum sundae—the customer service. It's downright amazing. The folks here are as friendly as can be, making your dining experience feel like you're among good friends.
1115 N Brevard St, Charlotte, NC 28206, United States
4. Dim Sum in Charlotte – Hawkers Asian Street Food
If you're looking for a taste of Asia right here in Charlotte, look no further than Hawkers Asian Street Food. This restaurant is an absolute gem, and I'm here to tell you why it's a must-visit for all you foodies out there.
First things first, the dim sum at Hawkers is out-of-this-world amazing. Picture this: Yi-Yi's chicken dumplings, golden wontons, soup dumplings, and Sichuan wontons. These bite-sized delights are like a flavor explosion in your mouth, each one packed with authentic Asian goodness that will leave you craving for more.
Now, let's talk about the whole experience, shall we? The waitstaff here is as friendly as can be, making you feel right at home. The service? Well, it's mostly quick, ensuring you won't be left twiddling your chopsticks for long. And the vibe? Oh, it's just perfect. Inside, you'll find a cool mix of neon lights and rustic wood and brick elements that create an atmosphere you won't want to leave.
If you've got a squad, fear not because Hawkers has you covered. Their booth seating is spacious enough to comfortably accommodate groups of six or more, making it the ideal spot for a food-filled gathering with friends and family.
1930 Camden Rd #260, Charlotte, NC 28203, United States
Let's Go Ahead And Try The Best Dim Sum in Charlotte!
So, there you have it—Charlotte's dim sum scene is nothing short of exciting! From hidden gems to local favorites, the Queen City has something for every dim sum lover.
You've got options galore, each with its own unique charm and flavor. So, go ahead, explore, savor, and discover your own personal dim sum paradise. Charlotte's dim sum adventure is waiting for you, and it's pretty darn tasty.
Popular Posts: