I'm sure you heard about the Coronavirus [COVID-19).
It's spreading on a large and rapid scale, infecting thousands of people and causing global crisis.
As of 28 March 2020, it's reported 597,267 cases and 27,365 deaths globally, it's a disaster for the world!
But, what's the coronavirus Impacts on e-commerce and retail markets?
And how it affects the future of e-commerce and retails?
Let's find out.
The Coronavirus (COVID-19) is spreading rapidly across the world, affecting 199 countries and territories and 2 international conveyances (the Diamond Princess cruise ship and the Holland America's MS Zaandam cruise ship)
As a prevention, many countries had no choice but to declare lockdown status.
Retail businesses are greatly affected by the Coronavirus outbreak, with the retail sales in China are reported to have fallen 20.5%, which caused panics to the retail businesses.
Global stock market is flashing most of the stocks with red figures, and also the biggest surge in the Dow since 1933.
Global oil price is on a huge drop, falling below $30 a barrel, causing huge losses to the relevant businesses like petroleum stations.
Travel industries are hugely affected and many are closing down due to country lockdowns and fear of infection.
Flight companies are one of the biggest victims of the coronavirus outbreak, as many countries declared lock down status, people are cancelling their flights and trips due to the fear of infection, which causes huge losses (due to high operation cost) and uncertain future to the flight companies.
It's not surprising if some of the flight companies are closing down due to this virus outbreak, the impact is far greater than you can imagine.
But on another side, eCommerce sales for some categories are on the rise.
As the majority of people try to avoid public places and shift their purchases to eCommerce, we can see the large transaction volume across various e-Commerce marketplaces such as Amazon and Taobao.
Thus, we can expect a surge from consumers in frequency of online shopping.
On top of eCommerce, we also found another five industries that have a boost in demands, which are:
1. Media
People around the world are highly interested and actively searching for news related to Coronavirus (COVID-19).
2. Healthcare
Healthcare products like 3ply face mask, hand sanitizer, and disposable glove are selling like hot cake with the average retail price shooting up to 2 to 10 times the original cost.
Because the demand is higher than supply, also due to the unethical businesses who stock up these essential healthcare products in large volume and resell at much higher cost, which speed up the global supply shortage and product price hike.
However, it's not possible to stop these greedy businesses from doing that, so if you are selling these healthcare products at a reasonable price, kudos to you!
3. Food (Grocery)
The food industry we are talking about here is more towards essential groceries, as most people tend to cook and eat at home rather than dine-out.
Restaurant side, most were affected by the lockdown, which resulted in a significant drop in sales volume. Meanwhile, the impact is much lesser for those restaurants with food delivery services.
4. Delivery Services
As more people tend to stay at home, the products they need have to be delivered to their doorsteps, which create a high demand on delivery services like food delivery, groceries delivery, courier service, and logistics.
5. Finance
The virus outbreak has greatly impacted the financial strength of citizens and businesses, which create the demands of seeking financial help.
To know the impacts of coronavirus outbreak to the e-commerce world, we have sent out 3 questions to surveyed about 1,900 e-commerce sellers worldwide, and here're the responses:
1. 9% of e-commerce sellers said their sales increased significantly, 37% reported with increased sales volume, 24% said their sales maintained, 26% of them experienced a decrease in sales, and 4% said their sales volume dropped significantly.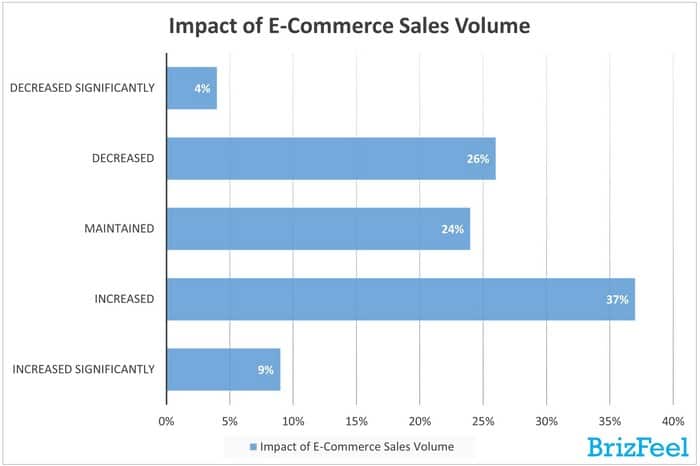 Those e-commerce sellers who experienced a significant increase in sales volume are mostly selling healthcare products (especially 3 ply facemask, surgical face mask, and hand sanitizers), grocery (fresh, frozen, can, and dry foods), and household essentials.
On the other side, e-commerce sellers who sell travel related things, stationery, and clothes are experiencing a decrease in sales.
2. During the virus outbreak, 23% of sellers are taking action aggressively, while 42% of them do taking some action, and 35% of them are not taking any action.
From our findings, some of the e-commerce sellers are taking the wait-and-see approach, some of them are uncertain about the impacts, while some of them do know what they should do.
3. In terms of the business workforce, 21% of sellers said they are recruiting more workers, 66% of them are maintaining the same number of workforce, and 13% are reducing their staff counts.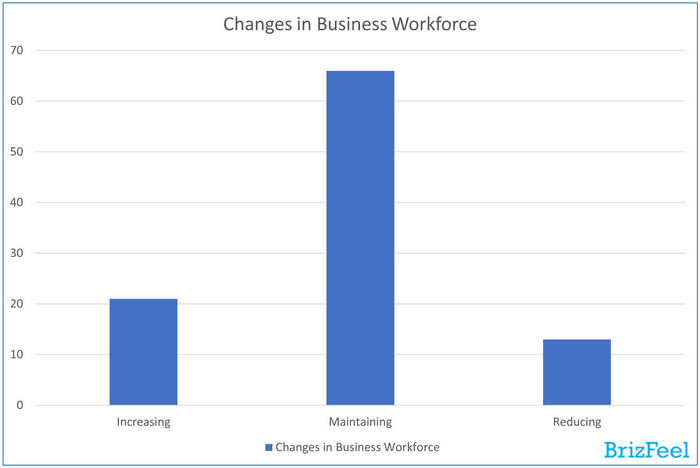 There are 21% of e-commerce sellers who actively recruiting more people in joining them to meet the high surge of demand for customer support, packing, and logistics.
On the other side, the majority of them said their existing workforce is enough to cope with the current business activities.
Meanwhile, 13% of them are forced to retrench some of their staff to cushion the impact of decreasing sales volume.
By looking at the coronavirus Impacts on both e-commerce and retail markets globally, we can say that e-commerce is at a favorable side compared to retails.
It's a future proof industry, which could be affected negatively, but at least the impacts are much lesser compared to the retail markets, this is for sure.
Coronavirus is just one of the disasters the global face at the moment, there could be more coming in the future (even though I hope no, but it's hard to predict the future, so it is better to prepare for it).
If you are still in the retail market only, now is the best time to diversify your focus, towards digital channnels like e-Commerce, online shop, social media marketplace, and more.
More Statistics and Survey: