When you buy via links on our site, we may earn a small commission at no additional cost to you.
Lead can be fatal for your health, and that is the main reason why you need to install the best lead removal filter for your home.
It can cause various health issues and prolonged exposure to lead can ultimately result in death.
In this review article, I'd research and compile the 3 best water filters for lead removal.
Top 3 Best Water Filters for Lead Removal
Here is the quick overview of the top 3 best lead removal filters for home:
What is Lead and How Does It Affect You?
Lead in water can be harmful to you and requires the best water filters for lead. It usually enters drinking water due to the plumbing material.
The material contains lead corrode and when the water has high acidity and low content of minerals. For that reason, pipes, faucets, and fixtures are the main cause of lead in drinking water.
Exposure to lead is extremely dangerous for your health as it causes weakness, anemia, kidney and brain damage, and many other diseases. When you're exposed to high contents of lead over a short interval, it can even lead to death.
It also affects pregnant women as by drinking lead water, an unborn child is exposed to lead and it can damage your child's nervous system. When your baby is exposed to even low contents of lead, it can affect the behavior and intelligence of your baby.
When you're exposed to lead over a short interval, you are more likely to encounter the following health issues.
Constipation
Distraction
Depression
Abdominal pain
Sickness
Irritation
However, prolonged exposure to lead causes higher blood pressure, kidney disease, heart disease, and reduced fertility.
How to Remove Lead from Water?
Several different methods can be used for the removal of lead from water. I've got some effective methods to remove lead including Reverse Osmosis, distillation, ion-exchange filtering, and activated carbon filtering.
Reverse Osmosis (RO)
This effective method forces the water molecules to pass through the membrane, it blocks larger ions that are mainly associated with lead or iron.
Reverse Osmosis is installed in homes near the kitchen sink because these are small systems and effective for point-of-use systems.
Distillation
The dissolved solids in water need to be removed, and it is carried out by the distillation system. This system comes in a relatively smaller version as well that can be installed on the kitchen basin.
The distillation system is produced small amounts of water as compared to other systems. As compared to the reverse osmosis system, it operates using electricity thus the cost is relatively higher.
Ion-exchange Filters
It removes lead molecules effectively and it works by adsorbing them using filter cartridges. It can be used for both point-of-use systems and point-of-entry systems.
It can treat water entering the house and removes lead to make it drinkable for you.
However, the filter needs to be replaced as its performance is affected if the other contaminants are also present in the water.
Activated Carbon Filtering
These filtering systems are easy to use and less expensive as compared to other systems. Being the best lead removal filter, activated carbon filtering is used as a point-of-use system, and pitchers filled with water.
However, such filters are sensitive to the pH of the water and usually remain effective when the pH is near 7.
What are the Different Types of Lead Filters?
Different types of best water filters for lead serve the purpose of removing lead from water.
However, make sure that your selected filter is effective enough to give you the best value for your money and peace of mind. It should meet your requirements based on your family size or members.
Reverse Osmosis Filters
The reverse osmosis filter system is capable of removing up to 97% of lead from the water. However, to yield an optimum outcome, it is recommended to add an activated carbon filter to the reverse osmosis system.
Otherwise, these systems are not capable of completely removing lead. This type of lead filter is best suitable when there are lower content contaminants alongside lead.
Filter Pitchers
Filter pitcher is effective when it comes to the best lead removal filter. It removes lead from the water to a great extent by using a coconut-based activated carbon filter. It is very easy to use and handy for personal uses.
Filter pitchers are available at reasonable prices and can be a good option for your economical budget.
Faucet Mount Units
The faucet filters that are installed right over the faucets are considered as faucet mount units. These filters are effective in removing lead, chlorine, mercury, and other relevant materials.
The best thing is that it doesn't require electricity to operate and its working based on the pressure per gallon of water as the supply comes at the inlet of the faucet.
Whole House Filters
These types of filters are installed at the point of entry and serve the purpose of purifying water before entering the house.
These filters reduce the level of lead and iron effectively and can be used to purify well water.
Showerhead filters
Undoubtedly, lead affects your health and cause major diseases. Besides, it can destroy your hair as well when shower water contains the content of lead.
For that purpose, make sure to use shower head filters to avoid your hair damage. The presence of lead in shower water leads to brain disorders, especially in adults.
When you use shower head filters, it filters out up to 99% of lead from water.
Top 3 Best Water Filter for Lead Reviews
Here are the in-depth reviews of the 3 best lead removal filters.
1. Filtrete Maximum Under Sink Water Filtration System Review – Best Undersink Lead Removal Filter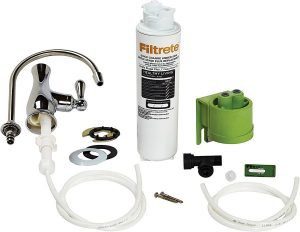 Highlights:
If you're looking for an efficient and useful filtration system for your households, the Filtrete Maximum system is the best option for you.
For your peace of mind, it is a certified filtration system that yields optimum outcomes.
When it comes to installation and maintenance, it is easy to install and makes you hassle-free for maintenance as well. It is a faucet mount unit that connects to your kitchen or bath faucet.
This product is extremely effective in reducing 99.9 percent of lead from the water. It doesn't allow molecules of more than 500 nm to pass through its filter with small pores.
The filter lasts for round about six months, and when the right time comes, it's easy to replace.
Pros:
High water flow rate
Easy to install
Remove lead up to 99.9 percent
Filters come with higher durability
NSF certified for guaranteed quality
Cons:
Lacks auto-shutoff mechanism
Some Leakage complaints
Best for
Its filter has 6 months of life and this system requires just 30 minutes for installation
It removed 99% lead, 97% chlorine, and other particles including microns of sand and sediment.
2. Brita 10 Cup 36396 Monterey Water Filter Pitcher Review – Best Lead Removal Filter Picher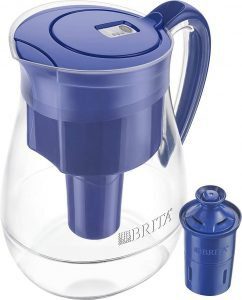 Highlights
It is one of the best water filters for lead that filters out impurities and makes water drinkable for you.
It is a water pitcher filtration system that allows you to filter 10 cups of water for safe drinking purposes whenever you want. It is portable enough to provide you water that doesn't taste like metal.
Alongside removing lead, it is effective in reducing mercury, cadmium, and other relevant contaminants from water. In ensures providing you fresh and odorless water in every glass.
This pitcher filtration system is made up of thick glass construction, and its filtration mechanism is following the certification of WQA.
It comes with a built-in filter change reminder that turns the LED light ON when a filter is needed to replace. With this feature, you do not have to keep checking over again when to change its filter, it warns you when the right time comes for a new filter.
Pros:
Built-in filter reminder
WQA certification for quality guarantee
Removes 99% of lead from water
Lockable lid that avoids spills
High-quality glass pitcher
Cons:
Lower capacity of water (up to 10 glass)
Best For
It filters out 120 gallons of water and you need to change its filter only twice a year
It works with both long last and Brita filters and gives you a choice to select based on your needs
It effectively removes 99% of lead from the water
3. Wonder WD-S-8K-DC Water Filtration System Review – Best Lead Removal Filter for Value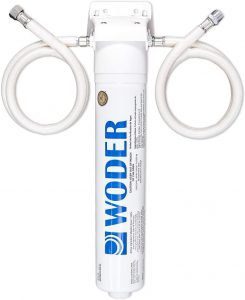 Highlights:
This water filtration system meets your demands if you belong to the US. Its design specifically suits the requirements of kitchen and bathroom sinks of US homes.
The wonder filtration system is well-equipped with technology which makes it rank among the best water filters for the lead.
When it comes to filtration, the system filters out every particle including some essential minerals as well.
On the other hand, this filter reduces only those compounds that are not safe for humans as regulated by health authorities.
It doesn't remove essential minerals as other ordinary filters do such as calcium, magnesium, and potassium. It provides you peace of mind by offering selective filtration.
The design is also suitable for the US homes as it comes with "Direct Connect" hoses. These hoses are of standard 3/8 inch water valves fit for the kitchen and bathroom sinks of US homes.
Besides, it is also WQA Certified for guaranteed quality.
Pros:
Well-equipped with technology and provides selective water filtration
Doesn't remove essential minerals
Well fit for US homes and resolve plumbing issues
Comes with WQA certification
Cons:
Relatively shorter filter life
Can only be suitable for municipally treated water
Best for
It offers advanced selective water filtration technology that removes over 99% of harmful minerals leaving behind essential minerals
It has the ultra-high capacity and lasts for a minimum of 3 years.
Direct Connect hoses specifically for US homes to fit standard 3/8 water valves for bathroom and kitchen sinks.
How to Choose the Best Water Filter for Lead Removal (Buyer Guide)
Before buying the right filter for lead removal, make sure to consider the important following factors.
Water Test
You cannot purchase a filter right away without a water test. Test your water first to make sure the level of lead and other contaminants present in water.
This can be done by going to local utility or Government Company. However, you can also use a home test kit for the water test.
Keep in mind that lead is not safe at all, and even some traces of lead in water can be harmful.
Filter Types
There are various types of lead filters out there which make it tough for you to decide on one.
Lead filter comes in different shapes, sizes and styles. Based on your home space, amount of water you need to drink, members of the family, and other related things, you need to make up a mind on filter type.
Besides choosing the right filter type, make sure that it comes with certifications for guaranteed quality and passes the standards as well.
Replacements
Due to the high contents of contamination present in water, some filters need to be replaced over time.
For that reason, you should consider such a filter that can be replaced easily afterward. Its filter products should be available in the market at a reasonable price according to your budget.
Before buying a filter, bear maintenance aspects in mind to make sure the chosen filter is the best lead removal filter.
Easy Installation
You can save other costs if your filter is easy to install as you would not have to hire a professional. Ease of installation ensures saving bucks for you.
Among the different types of lead filters, pitcher filters and faucet-mounted are the easiest to install.
Summary
The discussed filters are the best water filters for the lead that can effectively reduce the level of contaminants from the water.
These filters have specific features and specs that result in optimum outcomes.
1. Filtrete Maximum Under Sink Filter [Check Price]
Reduces 99% lead, 97% chlorine, 0.5 microns of sand, sediment, rust & soil
Higher water flow rate at 1.5 gallons per minute
Installs in less than 30 minutes
Tested and Certified by NSF
Filter lasts for 6 months
2. Brita 36396 Monterey Water Filter Pitcher [Check Price]
It reduces 99% of lead and reduces cadmium that found in tap water
Certified by WQA and NSF International against NSF/ANSI Standards 42, 53, and 401.
It filters 120 gallons and lasts for 6 months
Comes with filter change reminder
Product Dimension: 11.94 x 7.38 x 16.75 inches
3. Wonder WD-S-8K-DC [Check Price]
Temperature ranges from 43-100 F
Filter 8480 gallons or last for a minimum of 3 years
Fit standard 3/8" of US water valves
Certified by WQA to NSF/ANSI 42 and 372
Selective filtration that removes over 99.99% of contaminants
Remove only non-essential minerals
FAQ
1. How to remove lead from water naturally?
You can remove lead from water naturally by following the specific methods such as flush out your pipes but use an only cold tap.
2. What are the most trusted filter brands for lead removal?
3. Where to buy filters for lead water?
You can buy filters from nearby stores. However, the best water filters for lead can be founded on Amazon at reasonable prices.
Conclusion
Lead removal is necessary for you to keep yourself healthy because even a little amount of lead can be fatal.
However, keep in mind the following factors while choosing the best lead removal filter. Bear filter types, maintenance, and ease of installation in mind while purchasing a filter.
Read Next: